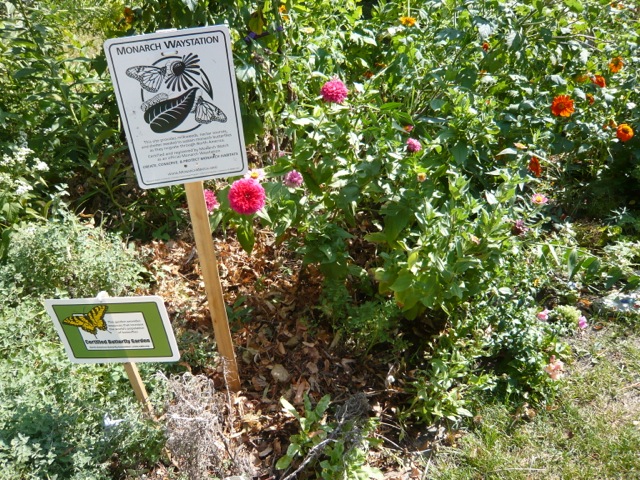 Green Community Connections and West Cook Wild Ones are collaborating on a local native plant garden tour on Sunday, September 7, 2014 from 2:00 p.m. to 5:30 p.m.(tentatively), and we are seeking Oak Park and River Forest home and public (libraries, churches, schools) landscapes to be included on our tour.
The tour's focus will be on landscapes using native plants (i.e., plants indigenous to Illinois, pre-settlement). This tour is meant for a wide audience of people, from those who currently have no native plants in their yards to people who are very knowledgeable about natives and are looking for more ideas. We would like to feature established native plant gardens as well as those that are "in progress" or are transitioning from non-natives to natives.
Below are some types of gardens we aim to include on the tour; if you think you (or your neighbor or friend's or business or church's) garden fits one--or more--of these categories (loosely or partially is ok), please complete the form below or send an email with your garden address and type, along with your phone number to: christiane@greencommunityconnections.org by Monday, August 4.
Starter Garden: yards where homeowners are just beginning to add native plants to landscapes that may include traditional lawns, evergreens and annuals
Fixer Uppers: gardens that are transitioning--they've gone beyond adding a few natives and are following a more robust plan of replacing non-natives with natives
Pretty as Petunias (but without the work): these can be colorful, low maintenance and less resource-intensive
Formal Attire: native plants in traditional, formal garden design
Kids in the Garden: gardens that have children as co-caretakers
What's Blooming Now:  featuring fall blooming natives
Food for All:  includes native edible plants for humans
Mixed Company: established gardens that show off attractive mixes of non-natives and natives
Purely Prairie & Woodland Wonders:  yards that try to recreate native ecosystems, the major ones being prairies (full sun), savannah (part sun), and woodland (shade), although an ecosystem is not defined strictly by light requirements
Block Party: whole block or stretch of a block that features natives
We Care about Carex:  sedge lawns
Living Lawn Free:  yards with no turf grass
Plants with Wet Feet:  rain gardens and bioswales
Not Just a Pretty Face:  habitat gardens that provide for wildlife; can also be focused on attracting particular animals such as butterflies, birds, bats, pollinators

Wild Card: Is there something we've missed? Do you have a fabulous native garden that has some other special feature? Please contact us!
If your garden is included in the tour, there will be several options for your participation. We realize that some people may enjoy guiding visitors through their garden; others would prefer less involvement. There will be a member of Wild Ones and possibly a Master Gardener at each site helping with logistics for your site (except at gardens under option 3, below).  The choice is yours, and we'll provide you with tour-preparation guidelines in any case. Please consider whether:
1. You'd like to lead people through your garden;
2. You would prefer that a Wild Ones volunteer or Master Gardener lead people through your garden; or
3. You would like your garden to be included as a  "bike by" or "drive by" site only.  Guests would only view from the sidewalk or street.
Because time is of the essence--the tour date is just six weeks away!--we need to know if you are interested in being included in the tour by Monday, August 4.  Please complete the form below indicating your interest in participating (or send an email to christiane@greencommunityconnections.org with garden address and type, along with your phone number). Someone will be in contact with you about next steps shortly after we hear from you.  Also, please don't hesitate to contact us with any questions you might have about participating in the tour (you may phone Sally Stovall at 773-315-1109).
Thank you very much for considering being included in what we hope will be an annual event for learning about native gardening and expansion of our local wildlife corridor!  For more information about Green Community Connections or Wild Ones, please visit our websites/Facebook pages:
http://www.greencommunityconnections.org/ ; https://www.facebook.com/GreenCommunityConnections
http://westcook.wildones.org/ ; https://www.facebook.com/wildoneswestcook [contact-form-7 id="12358" title="2014 Native Plant Tour Contact Form"]