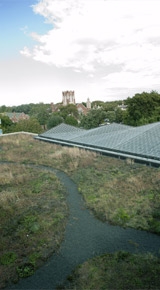 Video Tour. It's not visible from the street, so not many people realize that it's there, but the main branch of the Oak Park Public Library has a green roof. The roof is not open to the public for safety reasons, but the Oak Park Public Library wanted to provide a video tour to make more people aware of this environmentally-friendly feature of the library. A team of ten volunteers, now in grades 7th through 10th, worked together last summer on the filming, scripting, editing, and audio components. The 3-minute video tour of the Main Library's green roof pairs technical information
According to the library's web site, some 12,500 square feet of the third floor roof holds a thin layer of soil and was planted with many native Illinois plants including phlox and sedum. The architects designed the extensive green roof system, and Oak Park landscape architect Carol JH Yetkin selected plants that require minimal upkeep.
The green roof improves the energy performance of the building, reduces run-off into the storm sewer system, contributes to better air quality in the neighborhood, and is a cool zone.  Additional information on the video project and the green roof is available at the Oak Park Public Library Web Site.