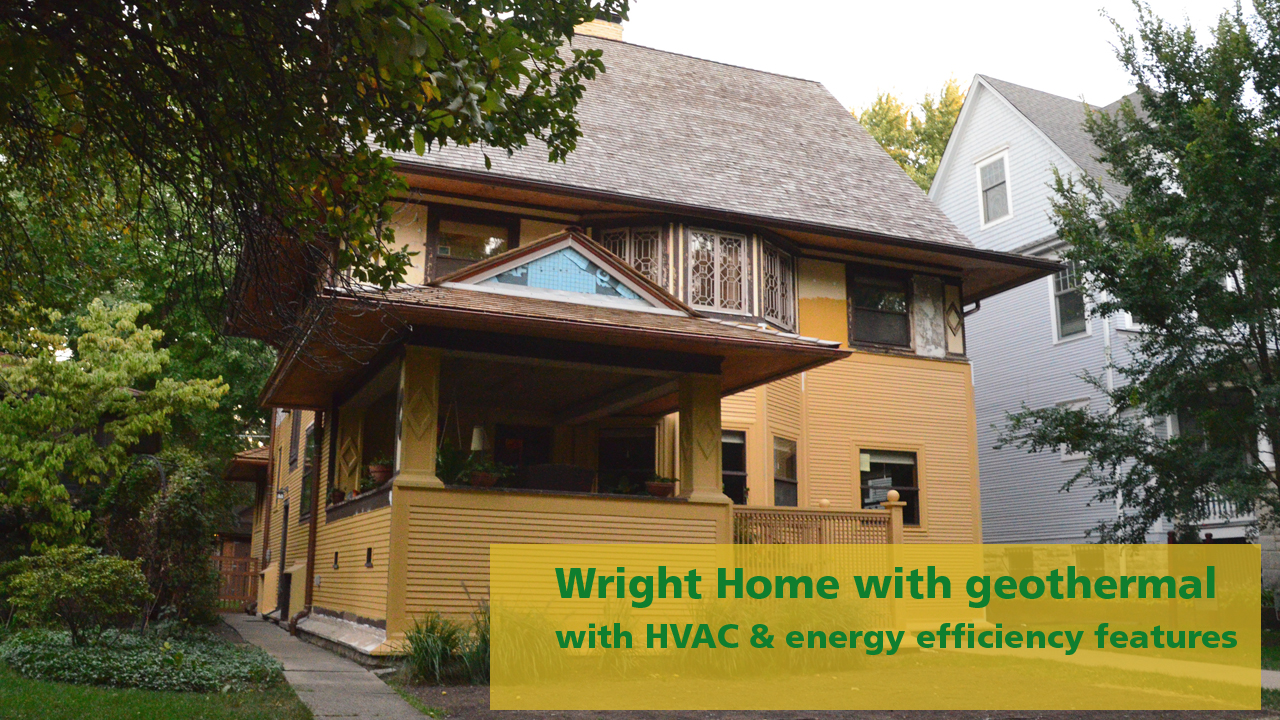 A very special East Avenue house on the Green Living and Learning Tour 2013 on September 28th was designed in early 1896 as one of about 30 production houses to be built in a full-block subdivision by Frank Lloyd Wright's friend Charles E. Roberts.  The area is now bounded by four streets in Oak Park: Chicago, Scoville, Superior and Elmwood.  The envisioned subdivision was not executed and "so far as anyone knows, our house is the only design (of at least five separate ones) actually built," says Mark Donovan, the current homeowner.  The house was built later that same year by a one-time millionaire inventor, Harry Goodrich, and his wife, Louisa.  The Donovan/Ludgin family is the sixth to own the house.
"When we purchased the house in 1999, Mary and I didn't originally set out to make the house so efficient and relatively green," said Mark, adding, "We've slowly learned, and sought out, ways to restore the house which respect its history and significance but also incorporate 21st century efficiency technology."
In 2005, the couple was exploring upgrading the heating system both to replace the inefficient old boiler as well as to remove the first floor radiators which compromised historic restoration of the home.  "One thing led to another once I began to educate myself about optimizing the efficiency of hot water heat, " reported Mark.  The couple decided on underfloor radiant heat on the first floor, which led them to lower the basement floor 13" in order to radiantly heat the basement floor.  This step indirectly led to looking into ground source - "geothermal" - heat pumps.  These changes required the services of a local mechanical engineer who happened to be experienced in and a fan of various approaches to energy efficiency including ground source, and, Mark says, "Then we really started to get into it."  All their efficiency upgrades have grown out of this initial experience, via reading and other routes of research.
The owners report the house's mechanical, electrical, and plumbing systems are now essentially completely new, nearly invisible, and highly efficient.  The house is also nearly fully insulated and air-sealed to the extent feasible without compromising the house's historical character.  The amount of rainwater directed into the Village's sewers is reduced by nearly 50%, and the homeowners use CFLs and LEDs wherever they do not detract from the appearance of antique light fixtures.
The home's reduced energy consumption over the period 2006-2013, even with significantly enlarged square footage of space now within the conditioned thermal envelope is evident in this graph, created by the homeowner .
You can visit this Frank Lloyd Wright-designed home during the Green Living & Learning Tour in Oak Park and River Forest on Sept. 28th.  For more information about the event, including registration information for all 18 sites, visit the tour page at Green Community Connections.